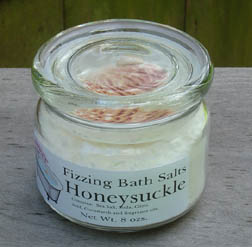 Prices and Description:
Body Soaps: Our varieties include Cinnamon, Cornmeal, Oatmeal, Sage, Cocoa Butter, Witch Hazel, Sandalwood, Rose, Cool Waters, Lilac, Honeysuckle, Plain, Rosemary, Lavender, Carrot, Fisherman's, Strawberry, Cucumber, Jasmine, Patchouli, Comfrey and Chamomile. Round Bars 2-3 oz: $2.00
Lip Balms: We use Sweet Almond Oil, Beeswax, Vitamin E Oil, and flavor oils. Our flavors include Chocolate, French Vanilla, Plain, Cherry, Strawberry, Grape, Peppermint and Bubble Gum. Traditional Roll-Up Tube: $2.00
Mud Facials: Our mud facials are made from pure clay and you can mix in your preferred liquids. We can provide some suggestions. Each package contains 4 Tables. Makes one or two masks. Available for Sensitive Skin: $2.00; Oliy Skin: $3.00; Normal Skin: $4.25; Sea Clay: $4.25.
Body Creams: Our creams our made with blended vegetable oil, water, beeswax and fragrance. Available frangrances include: Rose, Lavender, Unscented, Sandalwood, Honeysuckle, Lilac, Jasmine, Patchouli and Cool Waters. 1 Ounce: $4.00, 4 Ounces: $7.00
Fizzing Bath Salts: We use salt from the Caribbeean Sea, Soda, Cornstarch, Citric Acid and the fragrance. Available Fragrances include: Rose, Lavender, Unscented, Sandalwood, Honeysuckle, Lilac, Jasmine, Patchouli and Cool Waters. 4 Ounce Sample Bag: $3.00, 8 Ounce Keepsake Jar: $5.00, 20 Ounce Organdy Bag: $8.00
Hillbilly Hunny Bath: Includes 1 Body Cream, 1 4 oz Fizzing Salt, 1 Bar of Soap and 1 Bath Tub. (See Picture above) $15.00
All Prices Include Shipping & Handling