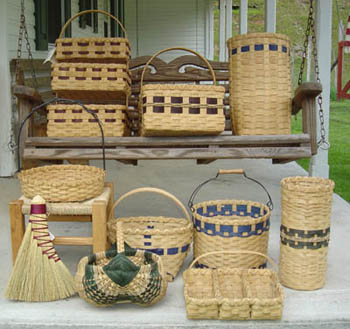 On a remote farm in West Virginia's heartland, my husband and I preserve the heritage of early settlers. During my 24 years of service as 4-H club leader, I learned the art of basket weaving and stool making at Jackson's Mill leader craft weekends.

Later, I was a broom maker's apprentice through the Augusta Heritage Program. Our baskets are stained with golden oak and some are adorned with colored trim. Each basket, broom and stool is hand crafted with pleasure and sincerity.

We make and sell over 25 different types of baskets including baskets for newspapers, cookies, bread, wine, onions, fruit, casseroles and many more. Prices range from $5 to $70. Please contact us for our complete price list.