My name is Jason Raschka and Riverwood Creations started with a trip to Oregon where I saw some of the most beautiful furniture made out of twisted old juniper trees. While kayaking and rafting the rivers of Webster County, I have found many interesting and beautiful pieces of driftwood in and along the rivers. Inspired by my trip out West, I began crafting pieces of furniture and other decor out of local driftwood. After much research and trial and error, I learned how to make attractive and functional pieces that are also unique works of art.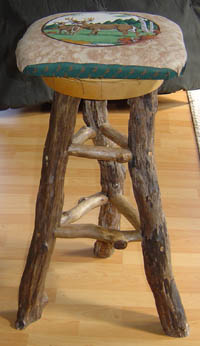 Picture frames, coffee tables, CD holders, table and floor lamps, wine bottle holders, are just some of the things that I can make out of driftwood. Anything from a simple stool to an entire bedroom set is possible. I am always discovering new ways to use this beautiful, local, and renewable resource. Maybe you have an idea that I can turn into a reality for you.
Riverwood Creations is located just 2 and 1/4 miles from Webster Springs on the Elk River road. From the Flatwoods exit off of I-79 take Route 15 to Diana and then turn right onto Route 20. As you approach Webster Springs, at the bottom of the mountain, stay straight instead of bearing left into town. Riverwood Creations is just 2 and 1/4 miles down the road on the left. Please call ahead to make sure that someone will be around.