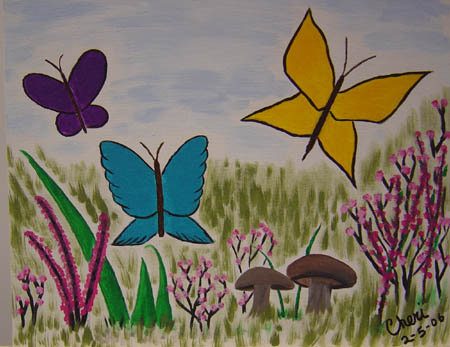 As a young girl growing up in a small town in Northern Ohio, I would sit quietly and watch as the elderly lady next door painted. I was always fascinated with the paintings she created on those blank canvas squares. Some days she would let me sketch on a pad and help me get things "just right". Her name was Mrs. Olga Hyde.

As a young mother, when I would put my children down for their naps, I would pull out my sketch pads and paints. I used this as my quiet time. Time for me to relax and escape the hustle and bustle of a busy day raising three young children. Most of my completed projects over the years have been given as special gifts or still hang around my home here and there. Some are special to me for sentimental reasons.

Now, I find myself disabled and unable to work a "regular" job. With time on my hands again, I have picked up the paint brush. I paint with acrylic paints, which dry faster and brush on smoother than oil based paints. As acrylic paints are water-based, they are easier to work with and very versatile.

I hope everyone who visits this site finds at least one painting they enjoy. I try hard to cover a variety of themes, yet keep within my own enjoyment. Painting is like singing, if you try to sing a song you don't like, it would sound good. If I am not truly enjoying a particular painting I am working on, it won't turn out good!