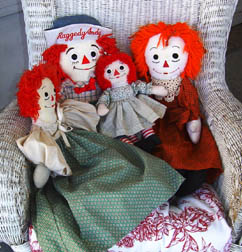 My name is Joyce Bragg and I'd like to tell you about my dream come true. I am the owner of Listening Hearts, a small shop where I spend my time sewing Raggedy Ann dolls. When I was about six years old, my Grandma, who raised me, used to make my summer clothes. I was always so proud to wear them. The material left over was put in the scrap box. As Grandma made sewing look so easy, I asked for some scraps and she would show me how to use a needle and thread. I mastered that and then I set out to learn how to use her treadle sewing machine. I wasn't big enough to reach the treadle so I sat on Grandma's lap as she took care of the treadle and I took care of the sewing. What I learned most from Grandma was the importance of the love and time she took to put into her work. During high school I had four semesters of sewing.

With the years of school and Grandma gone, my husband and I raised two sons that are now married and have given us grandchildren. Now, I am able to continue with my dream. I love Raggedy Ann dolls. I never owned one of her as a child, but today I make all kinds of her. She's the kind of doll that keeps all your secrets. I've been lucky sometimes and have found Raggedy Ann dolls in junk stores and yard sales, sometimes even without clothes. I bring them home with me and clean them up and make them clothes. I make my Raggedy Ann dolls all by myself. I start out with the material to make their bodies, I hand stitch their faces and hand sew their bodies together. I stitch an "I Love You" heart on her chest and sign my name and the year on her bottom. Once that is done, I then pick out material for her clothes including underwear. After that, I hand stitch the hair to her head and that completes a Raggedy Ann doll.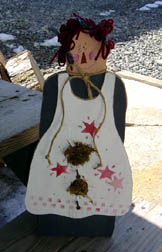 In addition to Raggedy Ann dolls, I also make many other crafts. My husband helps me with the wood items and I do all the painting and detail work. I enjoy the craft world more every day. I never stop dreaming or learning. My shop is very country with rusty tin on the ceiling and an old pig pen door turned into a nice candle cupboard. Of course I cleaned the tin and put a nice finish on it. I like to fix up other people's junk. If you like country and crafts you'd like me and my shop.
Listening Hearts hear angels sing. Listening Hearts was my Grandma and hearing angels sing are my rag dolls. I love what I do and am very excited for my future. Please stop by my shop to see all of my wonderful work!