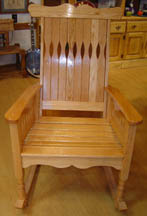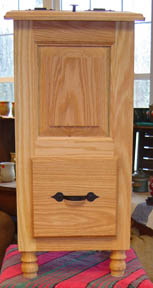 My name is Ray Doddrill and I am a retired furniture maker. I am born and raised in Webster County and have lived in this county most of my life.

As a hobby, I am now making wood furniture primarily out of oak, but occassionally out of other woods such as cherry. I make a wide variety of furniture such as rockers, bread boxes, chairs, onion & tater boxes, end tables and most anything that you might want for your house.

Ray Doddrill Furniture is sold exclusively through the Riffle Pottery Gallery on Rt. 82 just 1 mile outside of Cowen.